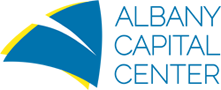 We recently got to go work with the team of the Albany Capital Center.  We got to do a Virtual Tour for them that they will be using to showcase their space to their clients.  This was an interesting process since this is the biggest Virtual Tour that we've ever done for a location.  It might even be the biggest that's ever been done with the camera that we use.  It's right up there alongside the work we did at the Albedor great camp up in the Adirondacks.
In the past we've done a lot of Virtual Tours for the realtors selling houses but we recently discovered the need for commercial locations and businesses to use it.  A perfect example is the Albany Capital Center.  Once their location opened it became hard for organizations to get a tour of the location to see about booking the space.  A virtual tour now allows them to show perspective clients and organizations what the space looks like, without them even stepping into the building.  This is something that we've noticed a lot of organizations love and have started to work with us on.
Check out the Albany Capital Center below in the VR tour that we shot for them and keep an eye out for future shoots that we will post on our blog and social media accounts.  If you're interested in getting a Virtual Tour of your location done check out some of the other work we've done or contact us to set up a shoot.
55 Eagle Street, Albany, NY, 12207, United States.